Sfera
The modular circular reception is infinitely modular
infinitely modular in its pure state
workstation modular circular reception from 1 to 7 modules to create a circular station.
Customizable with its own graphics, this reception workstation is particularly resistant and at the same time easily transportable in a suitcase.
Aluminum structure, plywood tops and counter-tops and painted sheet top finish.
It can be easily assembled by a person without using tools in a few minutes, particularly resistant and reliable.
Modular circular reception table top with glossy and scratchproof finish.
Why I choose Sfera modules.
Infinitely modular
Top entirely in painted metal
Aluminum structure
Fastflex coating, shockproof and hyper-resistant
Interchange of graphic sheets
Large internal shelf
Excellent finishes in all its parts
Modular and fully compatible with the Scudo series
Interchangeable accessories
Transport case
Tool-free setup
Quick assembly of a few minutes

Ul>
For each Sphere, its Final Kit
The final kit, suitable for Sfera and Scudo reception desks, consists of 2 pieces. For each desk you need to add a final kit, as an aesthetic infill for the reception counter. You can therefore combine Sphere and Shield as you wish but always a final kit. Do not forget to add it to your order, otherwise the desk will not have the side curtains that make this series the top on an aesthetic and practical level.
Fastflex*, le matériau antichoc original made in Fastand
Le centre de recherche et développement Fastand a créé un nouveau matériau exclusif qui allie souplesse et rigidité ; le résultat est une capacité de charge verticale élevée.
Avec Fastflex *, il est possible de créer des formes douces, des courbes parfaites entièrement personnalisables avec vos propres graphiques.
Antichoc, hydrofuge, ignifuge est la révolution dans le secteur des stands portables.
Recommended retail price € 230-
Suitcase and personalized graphic print included in the price.
Make your Sfera circular reception even more unique with a Fastand accessory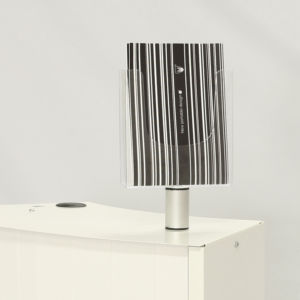 A4 brochure holder in transparent plexiglass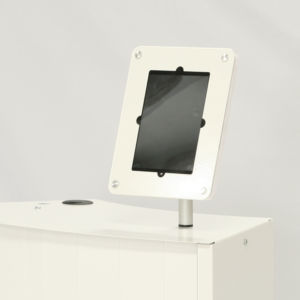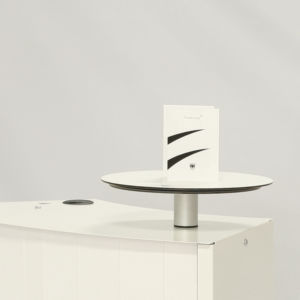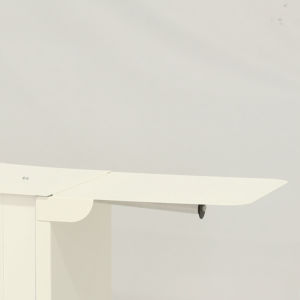 Cantilever shelf-extension
Discover other combinations for your modular circular reception