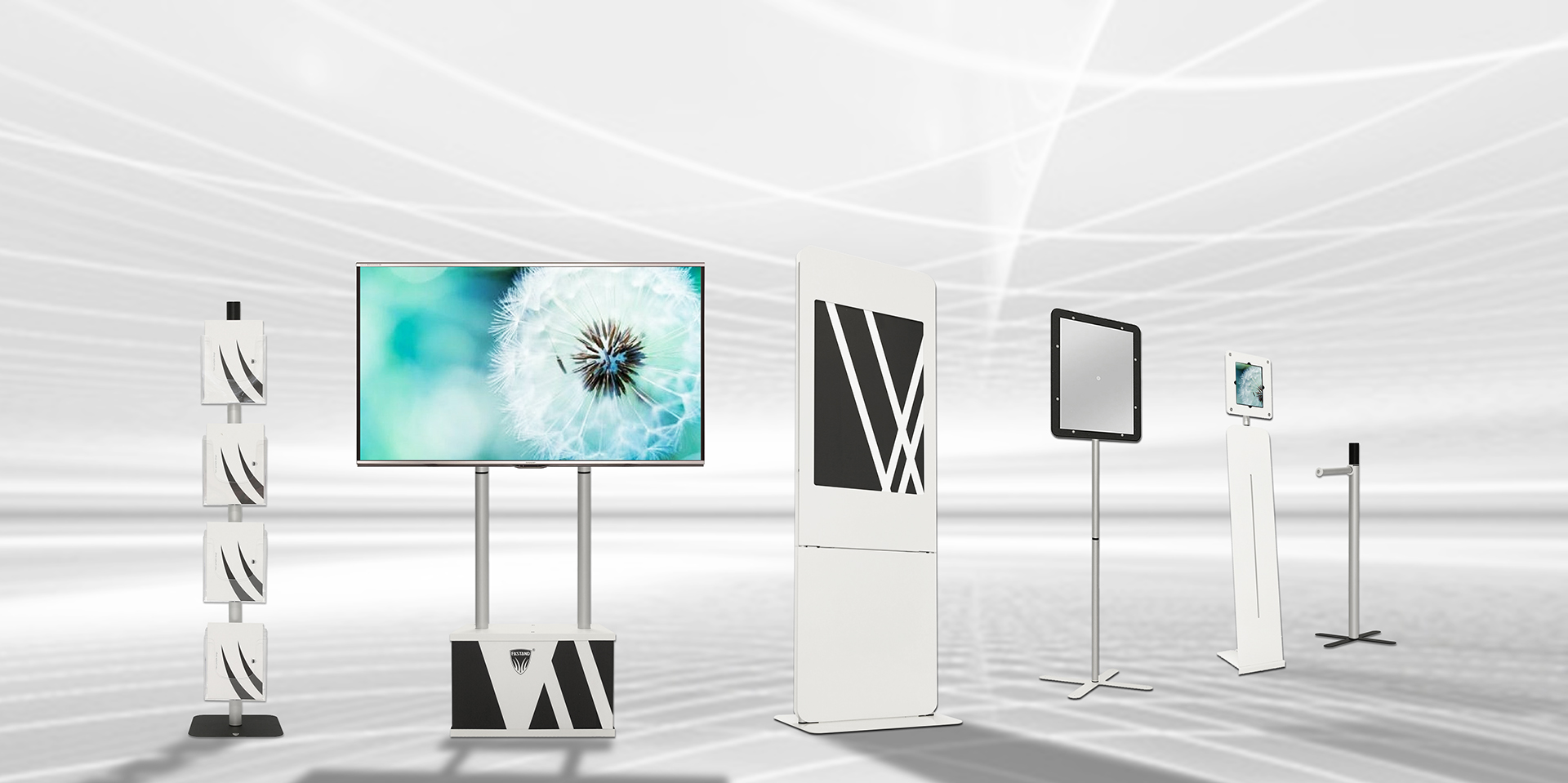 Totem and portable accessories for fairs and events in ythe bag
Our stand accessories are portable and completely manufactured in our factories. They are accessories of the highest quality and innovative design. We carry out quality checks at all stages of production, up to the suitcase, designed in all its parts to contain and make it last over time. The difference is made by using a high quality product, choose a TV stand or a tablet holder for your iPad. Choose Fastand for your events.
Furnish your stand at the fair with Fastand portable stand accessories, created to last over time.
Vittoria portable poster holder totem
Vittoria poster stand, with a unique and current design, is easily set up and is very stable. Ideal for shopping centers and small stands, but also for shops.
IDEAL FOR FAIRS IN SMALL STANDS AND EVENTS
Modern design
Double-sided
Interchangeable 50×70 poster
Self-supporting
Transport case
€ 445 transport case included
Viewing the TV stand totem
TV support totem, universal. It is an aluminum tripod, quick to assemble, complete with monitor support bracket, capable of supporting modern televisions from 30 to 50 inches
IDEAL FOR FAIRS IN SMALL AND MEDIUM STANDS
Modern design
Universal TV bracket
Customizable base
Self-supporting
Transport case
€ 350 Personalized printing and carrying case included
Contatto, universal tablet holder
Universal Tablet Stand Totem. Self-supporting and made of painted metal. An elegant support that can be used both horizontally and vertically.
IDEAL FOR FAIRS, EVENTS AND SALES POINTS
Modern design
Universal Tablet Case
Made of painted metal
Self-supporting
Transport case
€ 330 transport case included
Regale, stand for fair bags
Totem branded bag holder fair. A classic indispensable support for your stand. 30 bags can be attached to each arm.
IDEAL FOR FAIRS IN SMALL STANDS AND EVENTS
Modern design
Possibility of adding additional bag holder arms
Self-supporting
Transport case
€ 115 transport case included
Benvenuto, a poster board
Totem support sheet holder. Available in 2 versions, A4 and A3 format. Particularity is the rotating stesta of the sheet support, so that it can be ordered as desired.
IDEAL FOR FAIRS, EVENTS AND SHOPS
Modern design
single-sided
Easy insertion and sheet interchange
Self-supporting
Transport case
€ 135 in A4 format and € 170 in A3 format transport case included